CLAUDIO BUZIOL'S BIOGRAPHY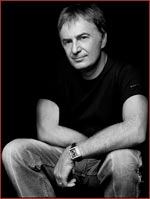 Claudio Buziol was born in 1957 in Crocetta del Montello, near Treviso. His parents are clothing dealers and he owes his talent to his father, who is a tailor. He starts very young to give free play to his creativity producing shirts for his family's shop. He designs shirts he would like to wear but which are not available in the market. His idea, from the very beginning, was to create clothing reminding to the past but at the same time representing something new and on the cutting edge for that years fashion.
In 1978, when he was just 21-year-old, he register the trademark REPLAY. The inspiration comes watching football matches of the world cup in Argentina on TV. For the first time it was possible to see on the screen the word replay: because of its simplicity and its inherent meaning of remaking, he thinks he has found the right trademark to transmit his willing to produce casual wear reinterpreting the '50s American-style with a total design and fabric innovation.
After a working experience as a designer for Pedrini, in 1981 he established Fashion Box S.p.A., a company based in Maser and specialized in casual shirt-making. Within five years Fashion Box goes international and makes 70% of its 4 million Euro sales abroad. Claudio Buziol's partner is Adriano Goldsmith, owner of the brand Goldie and of the "famous" Genius Group, producing the best emerging talents and brands in the clothing industry in that period: Claudio Buziol for Replay and Martin Guy, Katherine Hamnet for the homonymous brand and Renzo Rosso for Diesel.
In 1986 Buziol take over the company becoming the President. Ever since Fashion Box has an exponential growth, progressively extending the production until the actual total look, creating a worldwide distribution structure and increasing its know how.
In 2005 Claudio Buziol sadly passed away at the early age of 47, leaving behind an established group of companies which manufacture and distribute the Replay, Replay&Sons and we are Replay fashion brands in over 50 countries covering Europe, the Middle East, Asia, America and Africa.
MATTEO SINIGAGLIA BIOGRAPHY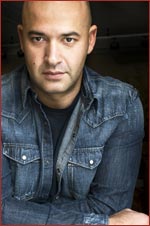 Born on 10 November 1970 in Padua.

After achieving a high school diploma (classical studies) in 1988, he went to university to study Law, until 1991, when he set of for Asia and began his business career in the world of footwear.

He settled in Hong Kong, choosing the city as a strategic base from which to develop and expand his knowledge of the manufacturing sector throughout the whole of South East Asia. The experience gained allowed him to select the best, most reliable facilities from the point of view of sourcing and production capacity. The solid, extensive technical know-how he acquired led him, in 1998, to set up Sugi International Limited, a trading company that soon became a market leader in the footwear sector, which operates in three market segments (private label, licensee and property brands) and now sells more than 18 million pairs of shoes in 45 countries and supplies to the world's leading footwear groups and fashion chains.

As the company has become progressively larger and stronger, staff at the operational headquarters now coordinates the R&D, marketing and manufacturing operations at the branch offices in Dongguan, Xiamen and Shanghai, while the design aspect is developed by internal facilities located in Italy, Spain and the USA.

In 2001 he met Claudio Buziol and signed a licensing contract to supply footwear for Replay and Replay and Sons. Exceptional market awareness and technical skill, together with the creation of a sound distribution network and adequate marketing support made the operation a resounding success, with over 2.5 million pairs sold per year.

2008 saw the signing of the partnership agreement in the footwear sector with Fashion Box spa, for the creation of Orient Box Ltd.

In December 2009 a majority shareholding was acquired in Fashion Box spa.