Guy Laroche's Autumn-Winter Campaign 2013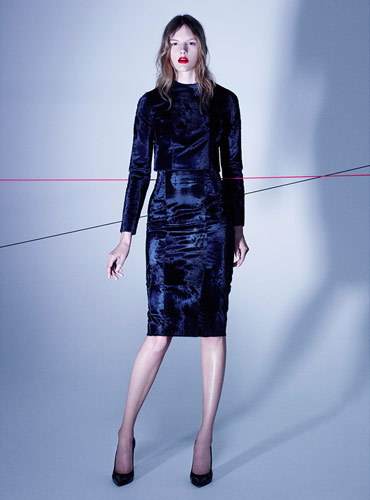 Guy Laroche's Autumn-Winter collection 2013 isn't simply focusing on the frontier dividing men and women; rather, it is intertwining potent yet seemingly incompatible extremes - for a result with an unexpected twist. Using 1940s as a backdrop - think sharp, silhouette hugging suits with a military nudge - Guy Laroche's creative director Marcel Marongiu juxtaposes formal wear with sexual rather than sexy accessories. A strict blazer worn is paired with a harness instead of a bra, with no other embellishment than the model's pearly white skin.
Slick pencil dresses with a large zip that opens from both ends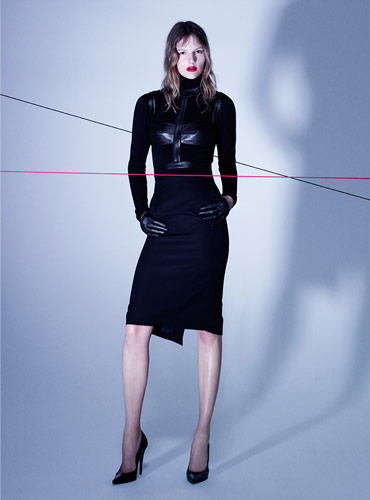 seem to encourage the woman to take off herself rather than wait for it to be removed from her- for a feminist sense of empowerment. In contrary, classically feminine references, such as silk flared trousers in shocking pink or deep purple are worn with such androgynous nonchalance that they suddenly become reminiscent of Prince or Jimmy Hendrix's stage costumes that tame girliness.
Fond of turning classically luxury on its head, Marongiu doesn't stop there. After toying with nibbled sequined silk in previous collections, he experiments with devoured lace piecing on lace evening dresses, for a radical sheerness; luxurious glossy python-like jackets turn out to be braided silk upon closer inspection, for a puzzling trompe l'oeil effect. Aviator jackets morph into redingotes and are worn with boisterous cocktail numbers, a look completed by Eiffel Tower-high stilettos and leather gloves. The gender-bending silhouettes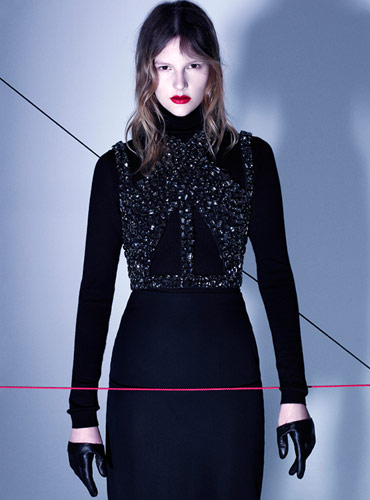 suggest that a Guy Laroche girl is both the Eternel Féminin - and the gentleman inside Dietrich.
For the campaign of Autumn-Winter 2013, Marlene Dietrich said "I am a gentleman at heart", who understood better than none that the best way to enhance fierce femininity is to contrast it with potent, radical masculinity. Her oversized aviator jacket paired with a beret and red lipstick forever marked the interplay between gender expressions.