Marcel Marongiu - Creative Director, Guy Lorache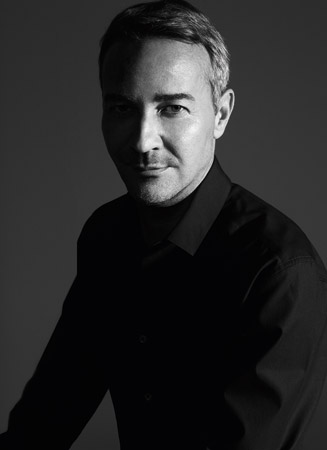 Born in Paris to a Swedish mother and a Sardinian father, Marcel Marongiu's DNA is the origin of what later became his trademark touch: North meets South, pared down silhouettes are fused with subtle sensuality, resulting in understated yet confident seduction.
A business major who moved on to dressmaking in Stockholm - a rarity for the French industry -, Marongiu first launched his eponymous label Maison Marcel Marongiu in 1989; his minimalist lines and monochrome palette offered a fresh alternative to the decade's ultra-sexy looks. A soaring success, he opened his first boutique on rue de Seine in 1998, followed, in 1999, by a leather-good line. Passionate about multi-media experimentations, he then designed a collection of Limoges porcelains with iconic manufacturer Artoria.
Unstoppable, Marongiu launched his menswear line in 2003. Named creative director of Guy Laroche in 2007, his style was an ideal match with the house's simple elegance and bold yet respectful femininity. Today, Marongiu's designs have been described as an adroit mix between sharp cuts and masculine nudges, merges with drapings, both modern and romantic.
Season after season, his collections are worn by the likes of Lady Gaga, Isabelle Huppert, Alicia Keys, Emmanuelle Béart, to name a few. Each waistline, back details and elaborate shoulder pads continue to reinvent and keep alive Monsieur Laroche.