Santoni - The story of a family dedicated to excellence.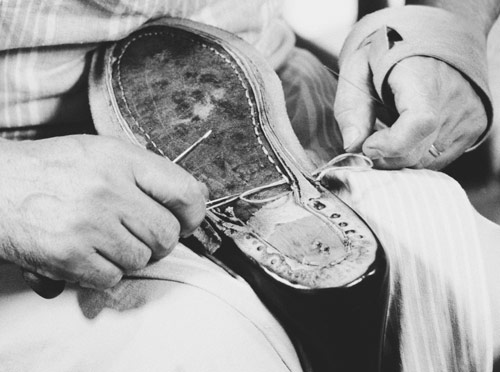 Andrea and Rosa Santoni founded their shoe design studio in 1975, with an aim to create perfect state of the art products for true connoisseurs and therefore manufactured shoes exclusively in their own workshops.
Workshop which measures more than 15,000 square metres and where the excellence of the past is successfully combined with today's demands.
From the craftsmen who still remember the first years in business to the young designers just graduated from the most prestigious design schools, everyone is dedicated to excellence and the defence of a continuously evolving heritage.
This continuous development is mostly the work of Andrea and Rosa' first son, Giuseppe, who joined the family company when still very young, supported at the beginning by his sister Ilenia, who was in charge of accounting and finance until her premature passing, in July 2013.
A successful path and a continuous development, from his push into new markets which Giuseppe personally explored at the beginning of the 1990's, to the opening of a manufacturing facility for casual shoes with rubber soles: these were significant efforts, for a company specialised in formal footwear, requiring the acquisition of completely new know-how.
The desire to keep all manufacturing in-house is an important principle, which guarantees absolute quality. These are the values Santoni has vowed not to relinquish. In 2005, the company decided to expand the women's line with specific manufacturing and design investments. The challenge was significant: maintain top level design and quality for both the men's and women's lines.
Proud to be Made in Italy, Santoni is also one of the driving forces for growth in the Marche region. Company headquarters are in Corridonia, in the province of Macerata: birthplace of the founder Andrea Santoni and the starting point of a brand that is still 100% owned by the Santoni family.