Burton Snowboards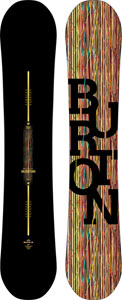 Burton Snowboards and leading British fashion designer Paul Smith teamed up for the Winter 2011 season. Their collective partnership moved from apparel and outerwear to hard goods with the co-design of the 2011 Burton Vapor snowboard.
The Burton Vapor snowboard represents both the finest in snowboard technology and artistic design. It sets a new standard of polish and refinement, with its sleek graphics styled by Paul Smith. The black, glossy top sheet is strong and sophisticated featuring Paul Smith's signature and Burton branding, while the base graphic delivers a powerful statement with the tip-to-tail pop of Paul Smith's iconic multi-color palette.
The 2011 Burton Vapor snowboard sets the industry standard when it comes to high-tech snowboard construction. Taking engineering cues from NASA, the Vapor is one of the lightest and most responsive boards on snow. Quite simply, it brings out the best of anyone who gets on it.
Tinker Tailor Soldier Spy
To celebrate the release of Tomas Alfredson's new film, 'Tinker Tailor Soldier Spy', Paul Smith designed a series of four silk screen printed posters, inspired by the film. 
Sir Paul Smith was delighted to have collaborated with the director in the early development stages of the film working in a creative capacity, offering thoughts and insights on 1970s London mood, colour and photographic approach.
This new feature film adaptation of Le Carré's classic tale of treachery and espionage is produced by Working Title and stars a stellar cast including; Gary Oldman, Benedict Cumberbatch, Colin Firth, John Hurt, Tom Hardy, Ciaran Hinds and Mark Strong.

Manchester United Football Club
The relationship between Manchester United and Paul Smith began in 2008 with Paul Smith supplying team and officials with suits for the UEFA Champions League Final in Moscow.
Paul Smith signed an agreement with Manchester United Football Club to continue designing and supplying formal wear and accessories for all first team, reserves and FA Youth Cup players and officials until 2014. Paul Smith will continue to design suits and tailoring from his Paul Smith London collection. The look is traditional with a modern twist, combining traditional cloths and contemporary styles with contrast details such as interesting linings for style and individuality.
Sir Paul Smith quotes, "It is exciting to continue working with Manchester United FC. Manchester United is arguably the most popular football club in the world and has such an incredible international fan base. I know that our customers in Japan,  Korea, Hong Kong, in fact all South East Asia, Europe and the USA will be interested in this continuing partnership."                     
"I've really enjoyed the partnership with Paul Smith. I think the team and officials are striking figures in the suits, presenting exactly the image we expect of Manchester United smart, professional and stylish."
Sir Alex Ferguson, 2012
 "We are delighted to continue our partnership with Britain's leading fashion designer. The relationship is a very good fit for Manchester United, the Paul Smith brand is one of the UK's leading exports and a name that is recognized and admired around the world. The quality of the product and the attention to detail in the service Paul Smith gives the Club is second to none."

Richard Arnold, Commercial Director, Manchester United FC, 2012
Guilio Cappellini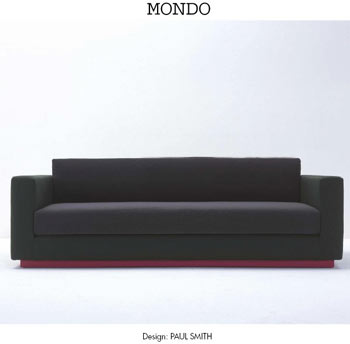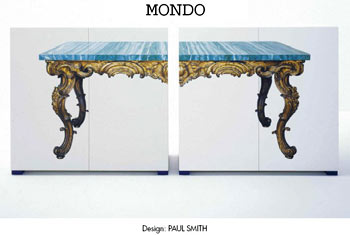 On Paul Smith's Collaboration with Guilio Cappellini; Paul Smith says, 'For a long time I have been a big admirer of the Cappellini Company. Two years ago I became friends with Guilio Cappellini basically I liked what he did, he liked what I did! He asked on several occasions if I was interested in working together quite honestly I was nervous to say yes as furniture was an area I had no experience in. I know furniture designers Ron Arad, Tom Dixon, Jasper Morrison and many more and felt it disrespectful to enter into their world but eventually I said yes.'
'I decided to treat the job more as a stylist, lots of ideas but not really new innovations in terms of the actual furniture. Paul designed several small collections and Mr. Cappellini chose to use them all much to Paul's surprise!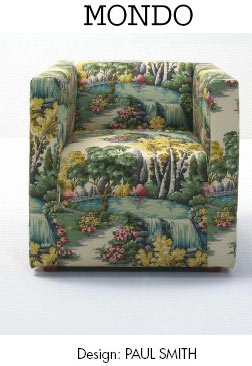 The printed collection is his favourite. His idea is that you look across a room and think you see a pile of rocks, wood or a beautiful baroque table only to find it is a simple, modern cabinet. The photographic method used on the furniture was completely new to Cappellini and needed a lot of research one of the biggest problems was the accuracy of colour printing of the life size images. The photographs taken by him were of rocks and a stone found near his house in Italy and the table is from the beautiful stately home Chatsworth House in Derbyshire, England.


London Olympics game Stamps designed by Paul Smith
Mercian Cycles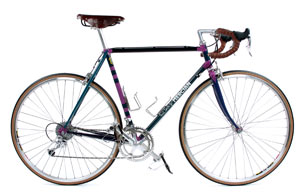 Paul Smith is delighted to be working with legendary Derby based bicycle makers Mercian. Paul has chosen two styles of bike, a Mercian Track and a Tour bike which he has personalized.
An avid cycling fan, Paul Smith fell into fashion aged 17 after a cycling accident put an end to his hopes of becoming a professional racing cyclist. He proudly rode his Mercian bike through the Derby countryside and still has the bike today.
The Paul Smith for Mercian bicycles feature unique Paul Smith designs and are available in a selection of six colourful custom made frames. Bikes are made available at Paul Smith shops.
Edelwiser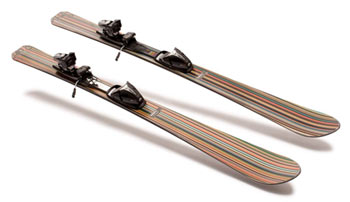 Paul Smith collaborated with highly specialized ski manufacturers, Edelwiser. Paul Smith's tonal multi-stripe can be seen on Edelwiser Swing 162 skis.
Edelwiser was co-founded by Nicola Werdenigg, former World Cup and Olympic skier and certified Austrian ski instructor. Edelwiser is dedicated to producing skis of the highest quality. Every pair of Edelwiser skis is handmade and built with state of the art materials, wood cores, laminated sidewalls, graphite bases for optimized flex and torsion characteristics.
Rapha
Paul Smith and Rapha join forces to launch a collection of cycling clothes and accessories. Building over two seasons, the collection will feature products that are inspired by road racing and designed specifically for city riding.
This is the latest in a series of collaborations between Rapha and Paul Smith. The two companies first worked together in 2007 on a Grand Depart Jersey to celebrate the Tour de France prologue in London. Paul Smith went on to sponsor the Rapha Condor Sharp racing team in 2009. A limited edition Paul Smith version of Rapha's Grand Tour gloves was launched and the Rapha Condor Sharp teams have already featured on Paul Smith bags.
The collection comprises of six items including; a City Rain jacket, jersey and luxury cycling accessories. This capsule range was extended further with additional jerseys, trousers and accessories. All of the products will be branded Rapha + Paul Smith. The phrase 'Freedom of the open road', in Paul Smith's hand-writing features as a embroidery on key pieces.
Rug Company
The Paul Smith Rug Collection is all knotted by hand at The Rug Company workshops in Nepal. The collaboration of Paul Smith and The Rug Company has produced a stunning collection of rugs in both luxury and design.
A selection of rugs in nine new designs, all in bold colours with a retro twist which include rugs featuring Paul Smith's signature colourful 'Multi Stripe'.
The Paul Smith 'Home' rugs are a more muted and classic design. Hazel brown rugs, one solid and the other with a band of cream, both with the typical Paul Smith 'twist' in large print letter the word 'Home' is thread off centre in fuchsia pink silk.
Stelton
The collaboration between Paul Smith and Stelton celebrates 50 years of Stelton's innovative Scandinavian designs and the work of Arne Jacobsen, and made its first appearance on Friday 12th February 2010 at the Frankfurt Ambiente design fair.
Paul Smith was given the opportunity to make its mark on Jacobson's Cylindia-Line to produce two new collections for design lovers everywhere.
The first is a modern take on the Cylindia-line, injecting colourful imagination on handles to lend a modern and optimistic look to Arne Jacobson's 1960's classics. Available in three colour ranges: primary, pastel and soft.

The second is the adaptation of the bar series to produce a special cocktail set, still incorporating Jacobsen's classical design elements but with a twist. Cocktail strainers and ice buckets were produced in titanium alloy, which lends to the rich steel and deep black colour. A surprising innovation is the edition of statements by Paul Smith, such as; 'Take pleasure seriously' and 'Start something new'.
In addition to the anniversary collections, Paul Smith and Stelton worked together to create a collection of bowls ('Dot') with and without lids, which are as decorative as they are functional. With nine colour ranges consisting of six colour variations the bowls can be used to hold anything from paperclips on a desk to tea bags in the kitchen.


Thomas Goode
Thomas Goode, the Mayfair based homeware emporium, linked with Paul Smith, internationally renowned fashion designer to launch an exclusive breakfast collection in the finest bone china.
Based on Paul Smith's trademark 'stripes' logo, the breakfast set comprises of a coffee-pot, teapot, tea cups & saucers, coffee cups & saucers, cereal bowl and side plate. This combination of products will allow the customer to mix and match the different items to create the perfect breakfast.
The creative team at Thomas Goode worked closely with Paul Smith to produce the stripes pattern on china. According to Rumi Verjee, "The diversity of colours and the complexity of the stripes pattern are especially difficult to recreate on china as the colours have to be built up and fired one at a time. The end result, however, is magnificent and we are delighted with it."  It is not only the first time a designer has produced a collection for Thomas Goode, but also the first time Paul Smith has produced a china collection. "Realising the idea of placing the eleven different coloured stripes on the china was quite a challenge but I think the end result is fantastic. This is a great project to be involved with."