Sir Paul Smith born in Beeston, Nottinghamshire on 5 July 1946 is an English fashion designer. He is one of the most successful and highly respected designers in the fashion industry. More than 40 years of success of Smith's business can be attributed to his understanding of his dual roles of both designer and retailer; the success of his designs to his combination of the classic and the quirky which allows men to buy relatively traditional and hence commercially popular designs that offer a 'twist' of individuality.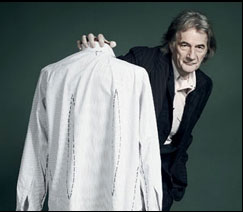 Paul Smith started his fashion career in a clothing warehouse in Nottingham in 1970. By 1976 Paul showed his first menswear collection in Paris under the Paul Smith label and in 1998 showed his first women's collection at London Fashion Week and the women's mainline collection continue to this day.
Within initial 20 years Paul Smith had established himself as a pre-eminent British designer. He has the ability to anticipate and spark trends, not only fashion but often in the wider context of popular culture. He transmits a genuine sense of humour and mischief mixed with his love of tradition and the classics.
In recognition of his dedication to British Fashion, he was knighted in the Queen's Birthday Honours list in 2001 for services to the British Fashion Industry.
Paul has retained a base in Nottingham but opened an office in London in 2003. His first store opened on 10 Byard Lane, Nottingham in 1970. In 1998 he converted a town-house in Notting Hill, London which became his flagship shop.
He now has 14 stores in London including Paul Smith Men, Women, Jeans, Junior and Paul Smith No. 9. The international growth of his business began and most famously in Japan, where Paul Smith has become synonymous with British design, he now has over two hundred stores in the country, other international stores can be found in Paris, Milan, New York, Far East and Middle East.
He is famed for dressing a broad range of high profile figures including politicians, entrepreneurs, footballers, rock stars, artists and actors who champion his label.
Paul Smith continues to be an integral part of his company; he is both designer and chairman and remains fully involved in every aspect of the business, from designing clothes, choosing fabrics to approving the shop locations and overseeing every development within the company. His latest work is the London Olympics posters and signs.