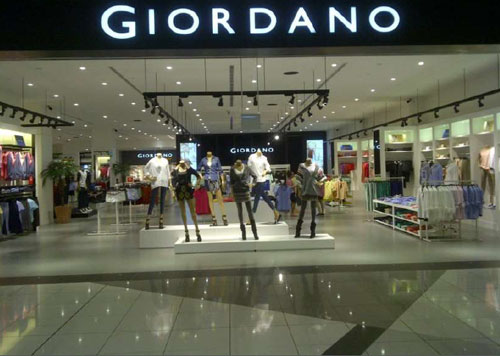 Giordano is a leading international retailer of men's, women's and children's apparel and accessories. From its beginnings as a manufacturer of casual clothing in the 1970's, Giordano has developed into one of the world's most renowned, apparel retail brands. By focusing relentlessly on its five corporate business values of quality, knowledge, innovation, service and simplicity (Q.K.I.S.S), the brand has grown from its single Hong Kong store in 1981 to the present network of 2,800 stores and counters in 40 countries across Asia-Pacific, the Middle East, Central Asia and Africa.
In recognition of its success, Giordano was recently listed as one of the Top 100 Companies Making a Difference in the Arab World by the prestigious Forbes magazine. The company also received the 2013 Global Emerging Market Retailer of the Year award in London, UK from Retail and Leisure International (RLI).
The company's brands - "Giordano", "Giordano Junior", "Giordano Ladies", "Concepts One " and "BSX " are today synonymous with superior quality, value and service. Currently, the brand serves more than 2 billion customers annually across Asia Pacific, the Middle East, India, Central Asia, Eastern Europe and Africa.