Leonardo Servadio
Back in 1959, Mr. Servadio, a fashionable Italian tailor searched everywhere for stylish sportswear to match his day to day aesthetic. Identifying a gap in the market for stylish, flattering sportswear he decided to create his own...
Charisma, confidence and good Old Italian charm led Leonardo and his brand into a sportswear phenomenon.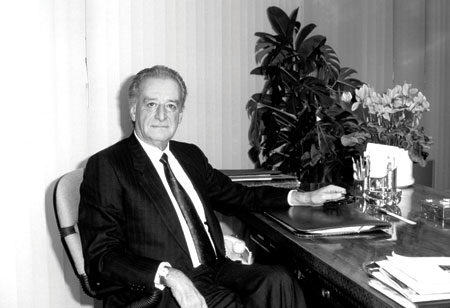 Servadio was born in 1925 to a family of textile merchants who were the owners of a popular textile store in Perugia. Through his passion for garments, and fashion in general, a young Leonardo was to start up a sportswear phenomenon. With his persuasive personality and a deep rooted pride in the people of his region, Servadio gained the help of locals to realize his dream. The late 1950's saw the birth of Leonardo's first collection, a selection of trousers, each named after the dolomite peaks. The trousers were characterized by an impeccable cut. Servadio's initial love for mountain sports uncannily anticipated the bright future the company would experience in the ski sector. Leonardo's passion developed further, and soon after he opened the doors to his first factory in Via Mario Angeloni, keeping it within his hometown of Perugia.
In 1959, Servadio decided to put a Name to his work, and put his initials L & S together, forming 'ellesse'. Simple yet effective, and soon to become a global household name. As the months and years passed the orders multiplied and in the mid 1960s, the company became the second largest manufacturer of trousers in Italy. The real transformation from a pioneering venture into an entrepreneurial adventure happened in 1966 when Servadio bought a vast expanse of land in Ellera, just outside Perugia. Here he built a brand new 60,000 square meter facility comprising futuristic offices and excellent production facilities.
The 1960's brought a new idea. ellesse had been producing skiing pants with an embroidered penguin logo and in 1967 Servadio opted for a plastic penguin logo that was applied to one of the thighs of the pants. The following year, to promote the brand and create loyalty and recognition amongst its customers, Servadio placed the brand name on the lower part of the trousers. It was the first time a sportswear manufacturer featured its brand name on the outside of its garments and it turned out to be one of the most inspired and pioneering ideas Servadio ever had adapted by brands around the world ever since. The ellesse brand experienced global growth and visible expansion throughout the 1970's as fast as disco took over the music scenes of nightclubs all over the world ellesse became the overnight outfitter to successful and famed athletes such as Guillermo Vilas, Chris Evert and the Italian ski team to name but a few. The dominance across global markets at such a vast rate can be put down to Servadio incorporating groundbreaking technology into the manufacturing process, and merging it perfectly with a sense of glamour.
Focusing predominantly on ski wear and tennis wear, ellesse was blazing a trail as it became 'the' sporting brand with added sex appeal. Calendar girls and playboy photographers were all recruited in the name of promoting true Italian glamour. Charisma, confidence and good Old Italian charm led Leonardo and his brand into a sportswear phenomenon. He incorporated every tool in the marketing book to become a dominant global force from presence on the tennis court to the terrace casual to the formula 1 circuit... ellesse became visible everywhere you cared to look.
Through hard work and an unrelenting quest for success, Leonardo Servadio became a fashion industry figurehead and in the process re-appropriated, for ellesse, the aesthetics, function and form of modern day sports casual clothing.
Be young, be bold, be stylish, be glamorous ... be ellesse