Brides are much more informed these days, which makes the shopping experience easier and faster
Kalighata takes pride in being a 'one-stop bridal destination' that offers customers luxurious yet affordable dressing options for various occasions. After the brand's first store was opened in Salt Lake, Kolkata, there was no looking back for its founders—Ritesh and Neha Kamani. In a chat with Fibre2Fashion, the designer duo decodes Indian bridal wear looks and styles that can be the rage this season.
Fibre2Fashion: How did you begin designing bridal haute couture and what inspires your designs?
Ritesh Kamani & Neha Kamani:
India is known for its colourful traditions and rich cultural events. Basically, Indians prefer to wear bright and colourful clothes with elaborate embroidery work in various fabrics such as silk, benarasi, muslin, muga, tusser etc during festivals, weddings, and other occasions. An important part of Indian weddings is the bridal lehenga—a traditional Indian attire. In Indian culture, the bride's wedding dress comes from the groom's side as a shagun. Red is considered to be the most auspicious colour among Hindus. Besides red, other vibrant colours like maroon, pink, yellow etc are suitable for a bridal trousseau. Traditional attire may be defined as the collection of garments, jewellery, and accessories rooted in the past, and worn by an identifiable group of people.
We were always fascinated by the above facts and wanted to showcase Indian ethnic designs through our creation and decided to explore some new bridal dress trends particularly for conventional clothing like a lehenga as Indian brides are going all out and experimenting with their bridal attire. Some of the top bridal lehenga trends include double dupattas, colour blocking, geometric motifs, and dramatic silhouettes.
Haute couture is not only simply made-to-order for a specific customer, but is also usually made from high-quality, expensive fabric and sewn with extreme attention to detail and finish, often using time-consuming hand-executed techniques. These things happen automatically as Kalighata graduates from a normal brand to an affordable luxury brand for people in India and abroad.
F2F: Please describe your design process when working with a bride-to-be from the initial consultation to the final fitting.
RK&NK:
There are two processes.
One is the client or bride-to-be visits our outlet and chooses a bridal lehenga and purchases it directly.
The second process is that the client chooses a particular design but wants it in a different colour or fabric. In that case we make that particular fabric available, dye the colour chosen by the client, and make the same embroidered lehenga. We also take the client's measurements to ensure a perfect fitting. In case the client has any preferences for a particular blouse or style, we incorporate that as well. After the bride-to-be confirms the design, materials, and the type and amount of details, we generally quote an estimated price.
Clients do fitting trials and we ensure that they are happy with our finished product. In case any adjustments are required, we take care of them and then provide the dresses.
F2F: How do you incorporate traditional Indian bridal elements, such as jewellery, into your design?
RK&NK:
Indian bridal jewellery grabs everyone's attention due to its visually appealing intricate designs. We always try to stay updated about the latest trends. When we talk about the wedding ensemble, jewellery plays an integral role. We always brainstorm on jewellery designs and keep multiple options for the bride. So when trying on her outfit, she can just go for these and understand the kind of jewellery that best complements her looks.
F2F: Can you take us through the creation of one of your signature bridal designs, including the techniques and materials you use to bring them to life?
RK&NK:
Vogue Lehenga - The Vogue Lehenga is a blush-pink lehenga and blouse in net fabric with sequins and crystal work. It is fully embellished with sequins and katdana work. Featuring cap sleeves, the blouse is paired with a dupatta of the same colour. This piece comes with a can-can.
Lucknowi Lehenga - The Lucknowi Lehenga is a heavily embroidered red lehnga in raw silk fabric with sequins and katdana. The blouse is heavily embroidered and paired with a dupatta of the same colour. This piece comes with a cancan. The lehenga is handmade with machine embroidery work.
Shimmer Grey - The Shimmer Grey lehenga is a grey colour lehenga in net fabric, fully embellished with crystal, katdana, and sequins work. Both the lehenga and blouse are decorated with sequins, paired with a dupatta of the same colour. The piece comes with a can-can. The outfit has BP-crafted sequins work all over with full sleeves.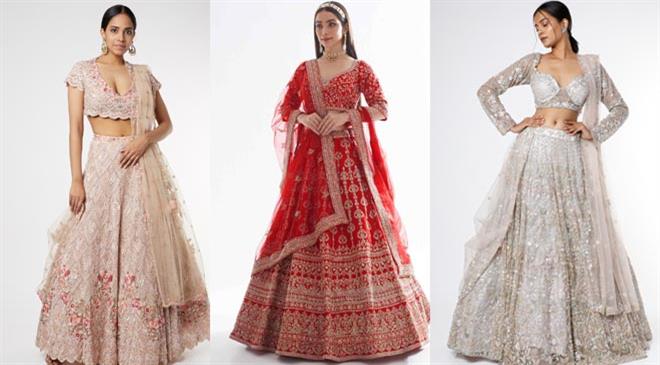 F2F: How do you balance the desire for a modern, unique design with the need to incorporate traditional elements and customs into a bride's wedding ensemble?
RK&NK:
The long history of weddings was, until recently, completely dominated by tradition and etiquette. Before modern media, couples knew what to do, when to do it, and how because it had always been done the same way, passed down from generation to generation. Gradually, however, we are replacing what is a 'must' in weddings with 'may'. Couples still wish to honour the past, but in a contemporary context with the priority of creating their own meaningful experiences.
In this evolving world, it is our challenge to help couples strike a balance between modern and traditional wedding elements, and to create something new and significant for all.
The new-age avatar of ethnic party wear is becoming increasingly popular as it retains a rich cultural essence. Today, Indian ethnic wear is appreciated globally by young women and even celebrities because it is detailed. Each intricate design tells a story. Further, Indian ethnic wear is handcrafted by skilled tailors who make every dress a meaningful piece of art. The right choice of ethnic wear can make the wearer the centre of attraction at weddings, parties, festivals and even at the workplace.
A bride can strike the perfect balance between being simply feminine and stunningly modern in trendy Indian fusion wear. An ethnic dress with a splash of colour, soft fabrics, and artistic designs offers the perfect blend of culture, tradition, and urban chic fashion.
F2F: What advice do you have for brides-to-be who are looking for the perfect bridal ensemble? How can they collaborate with a designer to bring their vision to life?
RK&NK:
A woman's wedding is the most beautiful phase of her life. Thus, choosing the perfect outfit for the occasion is a tough task. In order to make the work of would-be brides a little easy, here are some expert tips that will help you turn heads on your big day.
Decide on a vision: Nowadays, the bride often knows exactly what she wants, right to the smallest details. In case she doesn't, it is important that she decides on a concept first by trying out different silhouettes and patterns.
Get a second opinion: Having a second opinion is always a good idea. One can seek out a friend, close family member, siblings, or anyone else whose judgement they can trust. Sometimes another person can tell you best if you should go for a particular outfit or consider other options.
Wear what's appropriate: Choosing an appropriate shape for your body type is also important. This may become clearer once you actually try on dresses, so try to pick a few styles you would like, rather than just one. This is also about choosing something you feel comfortable in.
Break stereotypes: The key trends are lighter silhouettes, pastel palettes, and monotone ensembles. Try out different kinds of outfits, not just what's trending. Another thing is to change the drape of your outfit. Play around with different draping styles and choose the one that suits you the best and accentuates your look.
Mix it up: Teaming a jazzy lehenga with a subtle choli or settling on a dupatta that has heavy embroidery is in vogue nowadays. Jackets teamed with kurtis and skirts, crop cholis teamed with plain high-waist lehengas, saree gowns, and Victorian lehengas are some of the traditional choices that allow you to stand out.
Minimalistic and versatile: Brides should avoid going overboard with their make-up and jewellery. Fresh and effortless make up styles are dominating bridal trends with clean bright looks. Classic updos like the chignon and French twist will continue to remain trendy while tousled waves are quite common for the pixie look at outdoor weddings.
F2F: How do you stay up to date with the latest bridal fashion trends, and incorporate them into your designs while maintaining your own unique aesthetic?
RK&NK:
Each year comes with new trends, new designers, new decor styles, new playlists, and new themes. We see couples experimenting with their wedding cards, outfits, food, and clothes. Remember how Deepika Padukone wore Sabyasachi's Dil Guldasta Lehenga and it became the trending outfit amongst the brides? And with the popularity of Instagram, we can now save what we like instantly.
Oversized styles and volume are back but the traditional bridal silhouette has been redefined for 2023. Voluminous skirts are contrasted with modern details such as scoop necklines and drop waistlines, giving these outfits a cool, nonchalant attitude.
The trending wedding dresses are:
Anarkali Silhouette Lehenga
Sharara Dresses
Printed Lehengas
Technicolour Lehengas
Pre-Draped Sarees
Cape-Style Dupattas
Fuss-Free Lehenga
Off White Lehenga
We have already adopted some of these styles, which can be seen on our website.
F2F: Can you tell us about any particularly challenging bridal design you have created, and how you overcame obstacles in the design process?
RK&NK:
We found the Vogue lehenga to be the most challenging because it comes in pastel shades. In Indian weddings, people like vibrant colours like red, rani, and maroon in silk fabric. Whereas Vogue is a fancy lehenga and the fabric is net. Usually, this kind of lehenga does not go with Indian weddings, which made it challenging for us to sell it as a bridal outfit.
Besides the entire lehenga is made of net, which shrinks eventually so taking the right measurement was a challenge. Using the right katdanas for the lehenga was crucial as most katdanas get discoloured after some time.
Besides the entire lehenga is made of net, which shrinks eventually so taking the right measurement was a challenge. Using the right katdanas for the lehenga was crucial as most katdanas get discoloured after some time.
F2F: How do you ensure that the fit and construction of your bridal designs are flawless and comfortable for the bride on her special day?
RK&NK:
We ensure the Seven Bridal Dress Fitting Session Do's you need to check to avoid a bride wardrobe malfunction.
The wedding theme matters – By the time a bride tries to fit in her wedding dress, the wedding theme has already been finalised. It is important to know which sort of wedding style and design will be chosen for the fitting session. Will the wedding be all traditional or will it be modern? Is there a special motif for the wedding? These things will ensure that the bridal dress does not clash with the wedding theme. It's also a matter to raise in your bridal dress fitting session, to ensure that your dress holds through. If indeed it does, you can add contrast elements to the jewellery or dupatta to balance it out.
Examine the dress – From the edges to the stitches, a bride must make sure that her wedding dress will be at its best quality at every moment of her wedding day. All embellishments must be in place and the garment has to be durable. A wardrobe malfunction is the last thing any bride would want at her wedding! Begin your bridal dress fitting session by first examining the dress in detail. And if you think you need a bit of help regarding how to go about this, then get someone with sharper eyes to accompany you.
Be patient for a perfect fit – The main purpose of a bridal dress fitting session is to ensure that your bridal dress actually fits on the big day. Don't worry if your dress doesn't look perfect right away—the point of the fitting session is to make all of the necessary changes to ensure that everything looks great at the wedding.
Is it comfortable? – When fitting the dress ensure that you are able to walk and sit in it comfortably. It is very important to determine whether the bridal dress is causing you discomfort. It could be the fabric, the tailoring, or the size. The problem has to be identified and corrected. Often these discomforts are the ones which lead to wardrobe malfunctions as the bride-to-be tries to maneuver her way to comfort in a tight-fitted dress.
Match it up – The bridal dress, like the bride herself, has to be the perfect match for the groom's wedding outfit. Custom or tailor-made wedding outfits are recommended but if you and your future spouse are buying separately, do keep this in mind as well. Consider this factor while buying your accessories as well.
Check your look – Most fitting rooms come with large full-body mirrors to ensure that everyone gets a full perspective of what the bride will look like on her wedding day. These days, taking photos with phones or cameras also helps determine if the dress is indeed the perfect choice for you as a bride. In fact, turn around, try different poses, and examine your outfit in as much detail as possible during your bridal dress fitting session.
Patience is always a virtue – Trying out different bridal dresses requires a great amount of patience. One dress may be too loose or too tight while another one may be too heavy or even itchy. These and more dilemmas could be encountered while trying on different bridal dresses. It will take a couple of hours and several dresses before you find the perfect one. And for that to happen, it takes a great amount of patience. This is, after all, the most important tool to survive in any bridal dress fitting session! It's best to have a dress rehearsal before the celebrations begin and you're left with no time. Our suggestions will make sure that nothing is missed.                                                         
F2F: How do you see the future of bridal haute couture evolving in India, and what new trends or innovations do you think we can expect to see in this field?
RK&NK:
We are a work-in-progress brand. Our signature is always evolving, and we avoid being typecast. We have spent over a year researching new embroideries, motifs, artworks, and fabrics for our collection.
We have worked on controlling the shine of our fabrics, so it mimics fresh paint on wet plaster. The fabric and thread became our paint, with the needle as the brush. There is an incredible amount of detailing in each look. Customer behaviour online and offline is different. Audiences spend less time at the store but visit the online shop more frequently. One must keep evolving and innovating, especially online. But at the same time when brides come to our store, they know exactly what they want because they have already done their research online. Brides are much more informed these days, which makes the shopping experience easier and faster.
The upcoming new trends or innovations in this field are sumptuous sleeves, body-hugging silhouettes, ornate embellishments, raised hemlines, and slight hints of colour.