Spencer Hart unveils Palm Springs range for summer
New casual range from its flagship Brook Street Store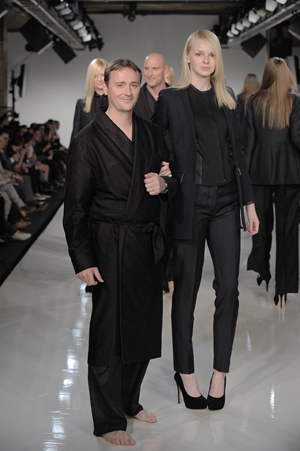 A new collection of casual wear inspired by 1950's Palm Springs iconic Influences of Sinatra, Kerouac, McQueen & Warhol, as chinos, work wear shirts, utilitarian jackets, teamed with plimsolls, chunky knitwear & cool shades.
Highly regarded for bespoke suits, Spencer Hart now has a casual range, to allow customers to be able to wear Savile Row quality apparel 7 days a week 365 days a year. All items are available from the new flagship store on Brook St, London.
More of an ethos than a style, the cut and fabrication of Spencer Hart has attracted some of the best-dressed and most highly regarded men across the globe. It recently dressed British actors Dominic West, Benedict Cumberbatch, Orlando Bloom and Damien Lewis at the Golden Globes, in LA.
The highly desirable line includes everything from a pair of well fitting boxer shorts to chunky Steve McQueen inspired cardigan. Polo shirts are available in both classic and long sleeved varieties.
The new flagship store, a former bank on Mayfair's Brook Street, reflects founder Nick Hart's vision and iconic references of a modern utopia influenced by the likes of Neutra, Sinatra, Warhol and Kerouac, into a fresh and modern retail world for men.


Spencer Hart Casual Polo
It's a lightweight fine knit piquet, short sleeved, relaxed fit polo shirt with a 3-button placket. The logo is subtly toned and the cuffs are tipped with jacquard.



Spencer Hart Boxer White
Its Black boxer shorts with black on black Jacquard elastic. Contrast embroidery, internal printed branding & mother of pearl buttons.

Spencer Hart Luxury Polo
Produced in cashmere and cotton, this long-sleeved relaxed fit polo shirt has a three button placket, toned logo and jacquard tipping on the cuffs.
Spencer Hart Merino Wool Shawl Cardigan
It's a made from 100% merino wool.

Spencer Hart Brogues
Soft Majorcan suede brogue made exclusively for Spencer Hart. It's an Elegant, understated and incredibly comfortable.

Spencer Hart Palm Springs Chinos
It's a slim cut, zip front opening with side pockets and 2 buttons down pockets. It comes with classic side adjusters, produced in Fine Super Twill.