Save our Seas T-shirt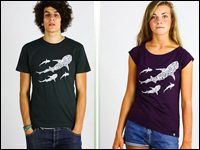 Rapanui believes that our oceans are worth protecting. The Marine Conservation society has been their chosen charity since 2008; they organised the biggest beach clean ever recordedby the charity and help with their campaigns. This organic t-shirt is Rapanui's tribute to their work. Rapanui donates 50% of the profits from this tee to the Marine Conservation society - ' fish are your friends '

This Organic Cotton T-shirt is made in a wind powered, Fair Wear Foundation audited factory and is printed on 100% Organic Cotton.
Lightning Bolt t-shirt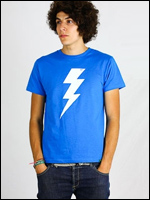 Most of Rapanui t-shirts have hidden meanings designed in to the detail. This too is one of their first t-shirt that went down a bolder route.

The design started as a stencil on the back of a skateboard helmet and has evolved into best selling t-shirt. Printed on softest, best fitting Organic Cotton tee.

Organic Zip Hoody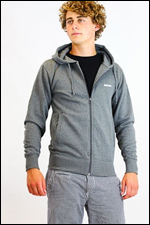 The zip hoody is a must have classic in the wardrobe. Rapanui's fits snugly and with 100% Organic cotton; it's the softest, warmest hoodie you'll own. So comfy you won't want to take it off.

It is embroidered in England on a Brushed 3-ply Certified 100% Organic Cotton Zip Hoody, made in a Fair Wear Foundation Audited factory and is a Low Carbon, GM Free piece.

Eucalyptus derived women's off the shoulder tops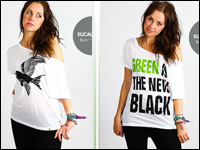 Slogan tees have stuck and aren't going away. These off shoulder tops are about versatility, keeping it simple, iconic and flattering. One can wear it off the shoulder asymmetrically, or slouchy like a t-shirt.

This top is made from Eucalyptus Tencel, a new eco-friendly textile that looks like pure cotton but is incredibly soft

With Rapanui's softest Tencel (a new brand of fibre derived from Eucalyptus) and a lush, off the shoulder cut, this top makes eco fashion cool.