GOLF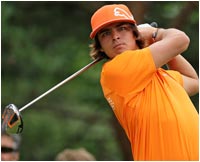 PUMA's Golf category displayed an ongoing buzz, momentum and growth over the last year while the golf industry itself declined. Their marketing campaign "Look better. Feel better. Play better." combined with innovative product introductions in apparel and footwear further boosted PUMA's mark in a sport that had long been perceived as too traditional for cutting-edge fashion.

They introduced the innovative InvisiBonding technology in their Golf apparel line which eliminates traditional stitching by using a bonding process on the seams. In footwear we expanded their range of products that feature the Smart Quill Technology ensuring a lighter and more comfortable feel as well as a better traction. These state-of-the-art performance products in the typical PUMA break-through and unconventional design propelled their PUMA athletes to memorable performances on the course. Geoff Ogilvy, ranked as high as No. 4 in the world in 2009, was a fixture on the top of the PGA Tour and European PGA Tour all season and claimed victories at the Mercedes Championship and the Accenture World Match Play Championship.

PUMA Golf continued to support its own new breed of player – one who demands the highest performance and comfort, but who also wants to make a more daring statement than your average, pleated, wrinkle-free khakis will allow. Such players included young and vibrant Anna Nordqvist, who won the first major tournament in PUMA's Golf history on the women's side with capturing the title at the McDonald's LPGA Championship. And finally, PUMA signed former No. 1 amateur in the world Rickie Fowler to a long-term contract to wear PUMA head to toe, paving the way for more exciting PUMA Golf moments to come.

To reinforce their global category positioning, PUMA partnered with the European Tour's season ending Race to Dubai tournament. For the events, PUMA introduced the Swing Crown GTX R2D and the C-Hopper R2D, two limited edition PUMA Golf shoes featuring the graphics of iconic buildings in cities of each country participating in the Race to Dubai Tournament – collectively known as The Race to Dubai skyline.