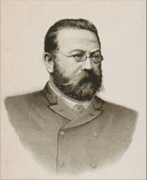 Established in London in 1884 by British accountant Lewis Tomalin, whose son and grandson both succeeded him as Chairman; Jaeger has been at the forefront of British style for over 125 years.



The house takes its name from Dr Gustav Jaeger, a professor of zoology and physiology, who pioneered the benefits of animal hair in clothing. Jaeger's subsequent fame for the quality of its woollens made it the natural choice to equip the Antarctic expeditions of Ernest Shackleton and Captain Robert Scott in 1907 and 1910 respectively.



The brand, which had been associated with all-important health-based, animal hair ideas for clothing (Jaeger famously introduced camel hair to Britain in 1908) soon evolved into other territories: those of style and fashion. It's little wonder why today, Jaeger is synonymous with inventive design and beautiful fabrics, in addition to attention to detail, fit, cut and finish.

By the 1930's Jaeger had become a highly prestigious, luxury brand, and its iconic, innovative fashion made it the first retailer to independently trade within Selfridges. Staying true to its DNA, the brand continued to explore new ideas, such as spearheading the use of new washable fabrics in the 1950s. Its status has enticed some of the world's most celebrated stars; Jaeger fans include Cary Grant and Marilyn Monroe and more recently, Madonna, Kate Moss, Claudia Schiffer, Victoria Beckham and Kylie Minogue.

Each collection is designed by Jaeger's talented team of in-house designers who fuse fashion-forward trend-driven ideas with archive-inspired pieces. This uniquely creative mix ensures Jaeger's position as an international luxury fashion brand.