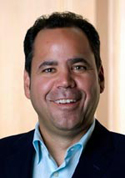 Glenn Murphy joined Gap Inc. as Chairman of the Board and Chief Executive Officer in July 2007.

Under his leadership, the company has successfully driven bottom line earnings growth by focusing on healthy margins and effectively managing costs. The company recently reported fiscal year earnings growth for 2008 of 16 percent.

Since joining, Murphy has solidified the company's leadership team by appointing new presidents for its Old Navy, Banana Republic and Outlet divisions, as well as the chief financial officer and senior vice president of corporate real estate. The company's senior management, led by Murphy, is focused on restoring the health of the brands and pursuing growth opportunities through the company's online division, international expansion and franchise partnerships. Recent milestones include opening more than 120 franchise stores globally, completing its acquisition of active wear brand Athleta - the first in more than 20 years, and opening its highly successful Banana Republic store in the United Kingdom.

With more than 20 years of retail experience, Murphy has successfully led diverse retail businesses and brands in the areas of food, health and beauty, and books. He has an established track record as a decisive, in-charge leader who has revitalized established retail brands.



Michelle Banks is Senior Vice President, General Counsel, Corporate Secretary and Chief Compliance Officer of Gap Inc.

In her current role, Michelle oversees the archives, records and privacy; legal; corporate compliance; corporate governance; government affairs and public policy; and stock administration functions. She joined the Gap Inc. Legal Department in 1999. Prior to becoming General Counsel in 2006, Michelle established and led Gap Inc.'s corporate compliance and corporate governance functions.

Before joining Gap Inc., Michelle was in-house legal counsel for the NBA's Golden State Warriors, and prior to that, worked in Japan as American counsel for ITOCHU Corporation, a publicly held trading company. She was also associated with several law firms, including Morrison & Foerster in California and New York, focusing on corporate finance and international transactions.



Toby Lenk is President of Gap Inc. Direct, the e-commerce division of Gap Inc. He is responsible for the direction and management of Gap Inc.'s popular retail websites: Gap Online, Banana Republic Online, Old Navy Online, Piperlime.com and the company's newest brand, Athleta. Lenk also oversees Gap Inc.'s private label credit card program, as well as the company's corporate sales division.

Prior to joining Gap Inc. in 2003, Lenk served as CEO of GameFly, the leading online video game subscription service he co-founded in 2002. Previously, Lenk was CEO of eToys, a pioneering e-commerce business he founded in 1997. Before founding eToys, Lenk served as Vice President of Corporate Strategic Planning for The Walt Disney Company.



Marka Hansen is President of Gap North America, where she leads all aspects of the business, including Gap, GapKids, babyGap, GapMaternity and gapbody.

Prior to this role, Hansen served as President of Banana Republic, overseeing all aspects of the brand in North America.

Hansen joined Gap Inc. in 1987 as Merchandise Manager for Banana Republic's Women's division. She spent six years with the brand in various positions, including Vice President of Men's Merchandising. In 1993, she joined Gap's International division as Vice President of Merchandising, leading expansion in Europe and Japan, and was promoted to Senior Vice President in 1995. After seven years, she served as head of Gap Inc.'s Human Resources organization before taking on the role of Executive Vice President of Gap Adult Merchandising in March 2002. Prior to joining the company, Hansen worked for Robinson's Department Stores in Southern California.

Hansen served on the board for the Legal Aid of Marin and presently serves on the board of Gap Foundation.