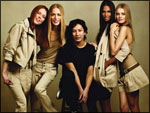 Did u know? Don Fisher couldn't find a decent pair of jeans that fit him, so in 1969 he solved his problem by creating the Gap brand.

Clean. Classic. American design. These words described Gap four decades ago and still hold true today. At Their best, they inspire customers with individual style and make Classics relevant for today through the use of bold color, emotional details and great fits.

With a clear brand vision and effortlessly cool product, Gap is re-connecting with its target customer—men and women ages 25 to 35 looking to express their unique, personal style. They continue to evolve our assortments with a focus on what they've always been famous for: the best of casual style.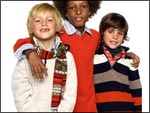 More than anything, though, Gap has been known for its connection to pop culture, as embodied in this image of Lenny Kravitz from the 1990s. (refer to the image)

Gap is committed to staying relevant by continuing to give their customers Gap classics, invented and re-invented for right now.